2019 Physician of The Year - Dr. Julia McDonald DO, of Augusta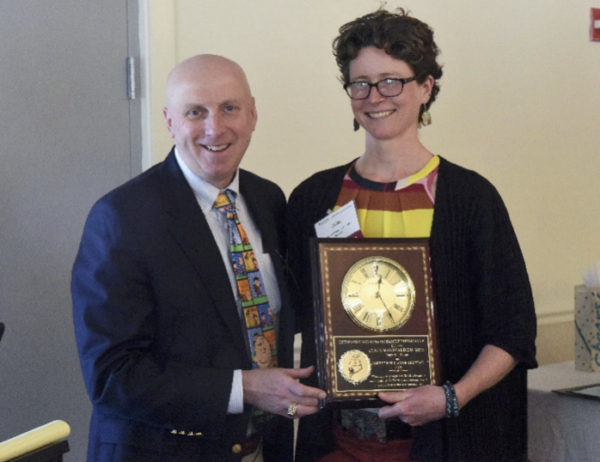 The Maine Academy of Family Physicians (MAFP) is pleased to award Maine's 2019 Family Physician of the Year to Julia McDonald DO, MPH of Augusta. As faculty at the Maine Dartmouth Family Medicine Residency, Dr. McDonald's practice includes primary care for all ages, obstetrics, hospital medicine, addiction treatment, and reproductive health care. She also serves as the Medical Director of Abortion Services at Mabel Wadsworth Center in Bangor. Dr. McDonald initially studied Dance and Theatre at Colby College, but turned to medicine during a profound experience in Peace Corps Morocco. She received her Masters of Public Health and her Doctorate in Osteopathy from UNE before completing her training at the Greater Lawrence Family Medicine
Residency (MA), where she served as Chief Resident.
Dr. McDonald's nomination specifically notes her perseverance, depth, passion, and dedication for her patients. "She actually listens…She meets patients in the moment, on their ground, and develops a plan that works for them while meeting their traditional medical needs. She engages their spirit, their joy, and their hope. And, as a practicing osteopath with endless energy and enthusiasm, she works to provide comprehensive, practical, and cost-effective care to her patients."
The award was presented to Dr. McDonald by the MAFP President, Dr. Patrick Connolly at the Annual Family Medicine Update April 4-5, in Bar Harbor, Maine.
2014 Physician of The Year - Barbara Vereault DO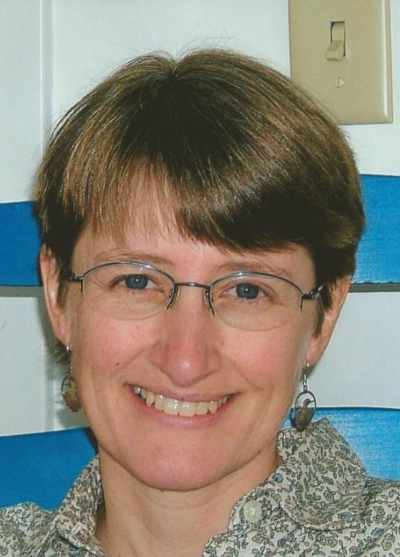 Barbara Vereault DO, of Bangor, Maine received the award as Maine Family Physician of the Year at the annual meeting of the Maine Academy of Family Physicians in South Portland on April 11, 2014. She was chosen and recognized by her colleagues for her outstanding accomplishments and her outstanding dedication to her patients and her community.
(Introduction and presentation remarks by William Jenkins MD (MAFP Family Physician of the Year 1999))
"The Maine Academy of Family Physicians (MAFP) is pleased to recognize the MAFP Family Physician of the Year, 2014. This year's Family Physician of the Year is an outstanding individual who truly exemplifies clinical excellence, devotion to patients, and the highest traditions of family medicine. This year's award goes to Barbara Vereault, DO.
LET ME TELL YOU A LITTLE ABOUT DR. VEREAULT.
A native of Maine, she was born in Skowhegan and has devoted her career to the people of Maine. She is a graduate of the University of Maine where she earned a BA in Zoology and the Chicago College of Osteopathic Medicine where she received the degree of Doctor of Osteopathy. She trained in Family Medicine at Eastern Maine Medical Center's Family Medicine Residency after an internship at the Osteopathic Hospital of Maine in Portland. She is Board Certified by the American Board of Family Medicine. Since residency, she has been a Family Physician in Bangor, both in private practice and as part of a Federally Qualified Health Center.
She was the key to the startup of the first Rural Health Center in Bangor, the Penobscot Community Health Center (PCHC) and to quote Robert C. Allen MD, the most recent Medical Director of PCHC, "she was "motivated by the belief that all persons should have access to quality healthcare regardless of their inability to pay'."
Drawing further from Dr. Allen's recommendation, it should be noted that PCHC began in the mid-90's with Dr. Vereault, a PA, a MA, and a secretary. Dr. Vereault served as PCHC'S Executive Medical Director from 2000 until 2006. During the past 15 years PCHC has experienced exponential growth and currently serves over 50,000 patients at 16 sites.
Dr. Vereault has always been an achiever and has offered much to her community. She was a Dean's List student at Medical School and was selected for SIGMA SIGMA PHI Honor Fraternity. She has been a member of the Medical Staff Executive Committees at both Eastern Maine Medical Center and St. Joseph Hospital. She has served our State as a Medical Examiner. In 2013, Dr. Vereault was inducted into Deborah Morton Society, honoring women of achievement from Maine.
This is some of what her colleagues and patients have said about her:
Dr. Allen further states," I am convinced there is no finer physician in the State of Maine." "She has been steadfast at the helm of medical care in Bangor" says Dr. Vince Michaud who nominated her for this award. "She exhibits all the values as a community servant, a sound human being, and a superb clinician."
To quote a patient: "I firmly believe that Barbara Vereault is the BEST Doctor in the universe and she deserves every recognition for her amazing work." And this: "She sees patients as individuals rather than conditions." As a Family Physician myself, I believe there can be no better compliment.
The single achievement in bringing a successful Health Center to Bangor, a Health Center which she believes is right for her community, deserves recognition and our respect in and of itself. Her reputation as an outstanding clinician and caring physician represents the highest ideals of Family Medicine and that is why we recognize her here today."
2013 Physician of The Year - DIETER KRECKEL, MD
Maine Academy of Family Physicians Maine Family Physician of the Year 2013 – presentation April 11, 2013
It is with a sense of humility mixed with pride and great respect that I announce today the award of Maine Family Physician of the Year for 2013 which is given to a family physician who truly typifies the kind of family doctor most of us strive to be – certainly that we hoped we might be when we chose medical school and this great specialty of family medicine.
The award this year goes to Dieter Kreckel, M.D. Let me tell you a little about this outstanding individual.
Dr. Kreckel has been for twenty years at swift river family medicine in rumford with a scope of practice which includes obstetrics, hospital and ICU care, housecalls, school physician, hospice, and many procedures including casting.
In addition, he is the director of the Central Maine Medical Center Rural Track Residency Program in Rumford and has been since 2005. During his time in Rumford, he has been the lead physician for the patient centered medical home pilot program, medical director of swift river family medicine, and president of the medical staff at Rumford Hospital .
He received a B.S. in Biology from Edinboro State University and a M.S. degree in Wildlife Biology from Washington State University . He received his M.D. degree from Temple University School of Medicine in 1980. He completed a residency in family medicine at St. Joseph Hospital Health Center in Syracuse, New York. He remains board certified in family medicine.
He served in the united states air force as a family physician at Loring Air Force Base – here in Maine – at Bitburg Air Force Base in Germany, and at Andrews Air Force Base in Maryland where he was residency faculty at the US Air Force Family Practice Residency Program, Assistant Department Chairman, and Associate Clinical Professor at the Uniformed Health Services University of Health Sciences. After ten years he left active duty and returned to Maine to start his practice in Rumford. However, he remained in the Air Force Reserve and retired at the rank of colonel.
Part of his commitment to family practice is his commitment to his community. He is chairman of the finance committee of the town of Rumford. He has been the team physician to local high schools and a ski club. He has been a member of the board of directors of the River Valley Chamber of Commerce, the River Valley Growth Council, and the River Valley Healthy Communities Coalition. He was also a member of the Oxford County Coalition.
He is a member of the American Academy of Family Physicians, The Maine Academy of Family Physicians, The American Medical Association , and The Maine Medical Association. Last fall he was elected president of the Maine Medical Association.
When we think about the ideal family physician, this gentleman has done it all. He has served his country, his community, and his patients.
To quote one of his patients – "in this age of when most people ask what can you do for me, Dr. Kreckel asks what can I do for my community? " Another said "his caring way was worth more to me than any medicine he could have provided."
Gordon Smith, Executive Vice President of The Maine Medical Association wrote: "he is passionate about family medicine, teaching, and promoting the traditional ethics and professionalism in medicine. "
R. David Frum is president of Rumford and Bridgton hospitals. He wrote: "Dr. Kreckel exemplifies the compassion, care, and values of the traditional family doctor. He has given a lifetime of service to our country, to our communities, to his colleagues, and to his family. We consider it an honor to have the opportunity to present to you Dr. Kreckel 's nomination for this prestigious award."
(presentation made by Dr. William Jenkins M.D. of Millinocket, 1999's MAFP Family Physician of the Year, and Dr. Thomas Bugbee M.D. of Blue Hill, MAFP president)
Past Recipients of MAFPs Family Physician of the Year Award
~ 2019 ~
Julia McDonald DO, MPH
Augusta
~ 2017 ~
Gust Stringos DO
Skowhegan
~ 2016 ~
Eric M. Gerchman MD
Denmark
~ 2015 ~
Richard Hobbs III MD, FAAFP
Waterville
~ 2014 ~
Barbara Vereault DO
Bangor
~ 2013 ~
Dieter Kreckel MD, FAAFP
Rumford
~ 2011 ~
Leigh "Jack" Forbush DO
Glenburn
~ 2010 ~
Charles "Charlie" Belisle MD
Yarmouth
~ 2009 ~
Carl Flynn MD
Caribou
~ 2008 ~
Michael Lambke MD
Skowhegan
~ 2006 ~
Vincent Michaud MD
Brewer
~ 2004 ~
Philip Elkin MD, FAAFP
Blue Hill
~ 2003 ~
Ronald Blum MD, FAAFP
Island Falls
~ 2002 ~
Raymond Stone DO, FAAFP
Auburn
~ 2001 ~
Thomas Hayward MD
East Corinth
~ 2000 ~
Kerry Crowley MD, FAAFP
Gouldsboro
~ 1999 ~
William Jenkins MD
Millinocket
~ 1998 ~
Eric Brown MD, FAAFP
Bangor
~ 1996 ~
Ann Dorney MD
Skowhegan
~ 1995 ~
David Jones MD, FAAFP
Presque Isle
~ 1994 ~
Noah Nesin MD, FAAFP
Lincoln
~ 1993 ~
Judith Chamberlain MD, FAAFP
Dexter
~ 1992 ~
Carol Ann Eckert MD
Coopers Mills
~ 1991 ~
Donald Abbott MD
Yarmouth
~ 1990 ~
Francis Bellino MD, FAAFP
Steep Falls
~ 1989 ~
Edward Kitfield III MD
Wiscasset
~ 1988 ~
Roy Miller MD
Coopers Mills
~1987 ~
Ned Claxton MD
Auburn