6-week Medical Student Externship -
Medical Student Externship Report – Molly Mann, MS2
2023 July – August
"My externship experience consisted of shadowing Dr. Der Simonian at the Falmouth Family Medicine office and at the Maine Medical Center Mother Baby Unit. I also spent one day at the Maine Family Planning clinic in Augusta, shadowing the head clinician, Lindsey Piper, NP. I observed multiple fascinating procedures and patient interactions throughout the externship, and I am grateful to have had the opportunity to glimpse the day-to-day of this field.
At the Family Medicine office, I observed the close relationships fostered between Dr. Der Simonian and her patients. Between routine care, medication management, and patients who opened up about their mental health struggles, it was clear that a strong baseline of trust had been established. I admire Dr. Der Simonian not only for her bedside manner, but also for her extensive medical knowledge and critical thinking. As a full spectrum physician, Dr. Der Simonian cares for patients throughout all stages and walks of life. It was inspiring to watch her competence in caring for a newborn infant on one day, and a 91-year-old patient the next.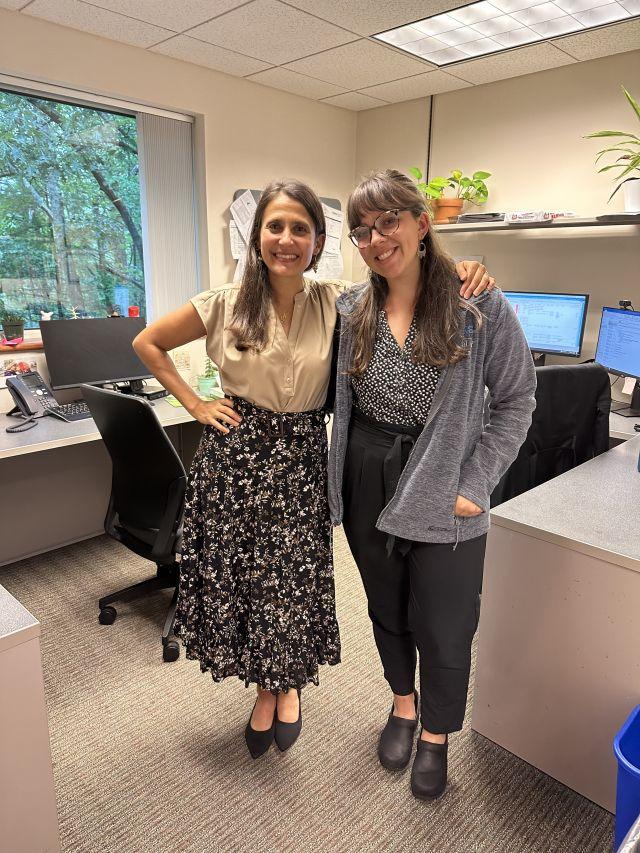 I was especially excited to shadow Dr. Der Simonian because of her training and passion for obstetrics, a field in which I am very interested. While shadowing at the Mother Baby Unit, I observed everything from a circumcision on a 1-day old infant, to a newborn who was started on phototherapy for jaundice, to a vaginal delivery. These experiences were all very new to me and only further solidified my passion for this type of care. The vaginal delivery was a particularly moving experience, leading me to tears as I watched the squealing infant take its first breath. Before this externship, I was not aware of how comprehensive and broad the breadth of practice of a full spectrum Family Physician truly can be. Now, I am only more inclined to consider Family Medicine as my future specialty, especially if there is opportunity to focus on reproductive and obstetric care.
Of the many hats Dr. Der Simonian wears, she also functions as the Medical Director at Maine Family Planning. I feel very fortunate to have had the opportunity to shadow the head nurse practitioner at the Augusta clinic. During this day I observed one medication abortion administration and two aspiration abortion procedures, the second of which was complicated by hemorrhage (which was swiftly controlled). I also assisted in completing both tissue evaluations to ensure full evacuation of pregnancy contents. As I am interested in becoming an abortion provider and continuing to be involved with Maine Family Planning throughout my career, this experience was very meaningful.
I am pleased to say that my experience in the Tufts Family Medicine Externship extended above and beyond my greatest expectations. My passion for medicine and interest in full spectrum care were only reinforced by the patient interactions and procedures I was fortunate to observe. I am thrilled to continue my training at Tufts, and look forward to learning from additional mentors as inspiring and committed to their professions as Dr. Der Simonian. Opportunities such as this externship and the practitioners I am fortunate to learn from are truly what shape the physician I am to become, and for that I am grateful to have completed this experience so early in my training.
Molly Mann, MS 2, Tufts University School of Medicine, Maine Rural Track"
---
AAFP National Conference of Residents & Students -
AAFP National Conference - July 27-29,2023

Medical Student Report on Attendance - MacKenzie MacRae, MS4
"The AAFP national conference was an incredible and transformative experience. From my first step into the convention center in Kansas City, I was in awe of the magnitude of the event and the opportunity to meet medical students and residents from across the country. As the Maine delegate, I attended Congress business sessions, participated in resolution writing workshops, and voted for candidates in elections. I learned about parliamentary procedure and debated topics important to the future of family medicine. Through this experience, I learned how the AAFP advocates for primary care and supports students with grants, scholarships, professional development and empowering us with knowledge and skills.
Additionally, I had the opportunity to network with residents from across the U.S. and hear about their programs. There were several other Tufts medical students, and we all attended the New England Programs social hosted by the Maine, Vermont, and New Hampshire residency programs. We even had time to explore Kansas City and attend a Royals game with a walk off grand slam! I'm so grateful for the scholarship funding that made my attendance at the National Conference possible. The experience will certainly shape the rest of my career. I hope to continue my involvement with such an inspiring group of leaders who value community, collaboration, and commitment to service.
MacKenzie MacRae, MS4
Tufts University School of Medicine, Maine Rural Track, Portland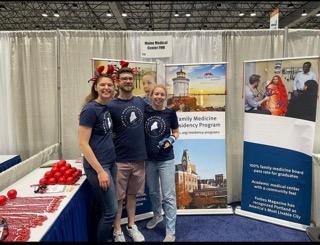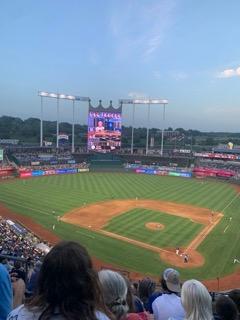 Exhibit Hall fun with other Maine attendees "Play Ball!" Evening fun time!